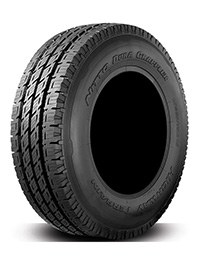 The Dura Grappler is a highway terrain tyre that provides a combination of tread life and ride comfort. It is suitable for a wide variety of light trucks, SUVs and CUVs. Bridges were between tread blocks to join individual blocks into continuous ribs, which stabilises the tyre and reduces tread flex.

This, in combination with harder compounds, provides improved tread life. Weather you're working on a construction site or towing your toys, the Dura Grappler was designed to meet your needs.

FEAUTURES:

Longevity - the multi-rib pattern helps improve tread life by linking the tread blocks to reduce tread flex, and also results in a quieter tyre.

Advanced Siping Technologies - waved sipes increase traction in wet conditions while maintaining tread block rigidity.

Wet Performance - circumferential grooves evacuate water from the tread pattern to maintain road traction in wet and slushy conditions.