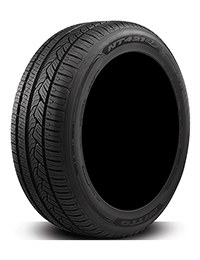 Vehicles have evolved throughout the years (from sedans, to SUVs, and now the crossover utility vehicle), but have your tyres done the same? The NT421Q is Nitto's premier allseason tyre built specifically for your crossovers and SUVs.

From style to function, the NT421Q has been created with the foremost purpose of getting you safely to your destination throughout the seasons. The unique and stylish asymmetric tread design provides a quiet and comfortable ride while delivering all-season traction.

FEATURES:

Intelligent Maintenance Indicators - Nitto's intelligent maintenance indicators are a service feature that visually show how your tyres are wearing. They can also alert you to wear issues before they because big problems.

Added Shoulder Inserts - The circumferential rubber shoulder insert adds an additional layer of strength to help you navigate potholes and other adverse road conditions.

Wet Traction - The NT421Q is an all-season tire that keeps you safely connected to the road in inclement weather. The three wide and deep circumferential grooves improve water evacuation, providing increased wet handling and traction.